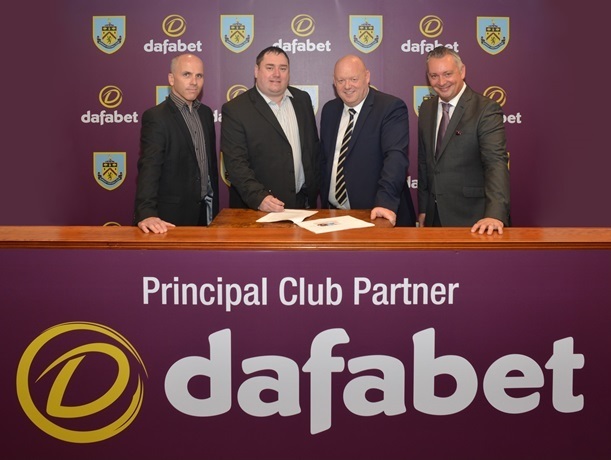 After the successful deal with Celtic FC, Dafabet proudly announces another major sponsorship with Burnley FC. This multi-million-pound contract will kick off on 2016/17 and 2017/18 seasons. Although the terms and conditions aren't fully revealed, Dafabet agrees to become a principal sponsor and have its name on both Clarets home and away shirts which will be released on Monday 27th of June.
Adhering the rules and regulations for minors, the company also promises to offer space on all junior shirts with the huge participation of Burnley FC community department. In this way, the Club is still free to promote their award winning achievements globally. In the same way, Dafabet can expect global exposure to the UK market without risking its reputation.
Dafabet-Burnley FC deal has been negotiated for months until now that it's already confirmed and announced. During the contract signing, Anthony Fairclough Head of Commercial Affairs expresses delight having Dafabet as the Club's principal sponsor. Add to that, Fairlough proudly highlights this huge achievement for Clarets as global commercial entity. "We've been invited to boardroom table where previously we would never have had the opportunity," he said.
During the interview,  Fairclough states that Dafabet successfully closes the partnership with them due to the proven track record within the Premier League of which they are looking forward to initiating some of the inventory of partnership. "I'm particularly pleased Dafabet have also allowed us to project the good work we do in the community onto a world state and we thank them for a vision which mirrored our own,"he added.
Dafabet replaces Oak Furniture Land as the Club's sponsor due to the expiration of contract. The company has been around in the e-gaming industry for 13 years covering over 5,000 live sports events and promoting the most competitive odds in the market. Apart from that, Dafabet also features enjoyable and up-to-date casino games with huge prizes at stake.
As the deal with Clarets succeeds, John Cruces Head of Sports Marketing and Sponsorship at Dafabet expresses his warm and delightful support. "We're very happy to sign up with Burnley Football Club and are looking forward to building a mutually beneficial partnership. They were deserving winners of the Championship last season and we'll now be hoping for a successful return to the Premier League." He said.
On the other hand, Dimitris Karatzas Managing Director of Online Gaming at Dafabet states his future plans as the sponsorship continues. "We've been busy in increasing our presence in football and we have no doubt that partnering up with Burnley is yet another step forward, we'll look forward to supporting the club anyway we can."
Add your comment. Tell us what you think
comments