As seen on safc.com, Black Cats announces extension of partnership contract with the Philippine-based eGaming operator, Dafabet. Following the news, Dafabet delightedly confirms on their official twitter page @Dafabet "we have extended our deal with @SunderlandAFC #SAFC".
Although the terms haven't fully revealed, Dafabet agrees to become the principal sponsor for both Black Cats home and away shirts which runs until the end of 2018-2019 season. The current extension is so far the longest serving principal partnership in the history of Barclays Premiere League.
Dafabet has been around in the industry since 2004 with the key markets Asia and UK. As part of Sunderland's support with the eGaming company, the club launched Chinese version of their website which aimed to help broaden the brand presence in Asian territories and; with Premiere league being one of the most watched sporting leagues in the world, Dafabet is confident to gain more exposure in front of their key audiences.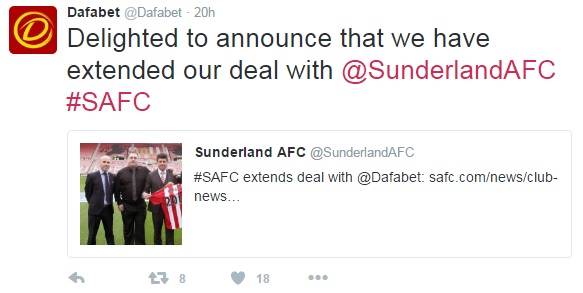 Apart from being the principal shirt sponsor, Dafabet also undertakes a number of fan engagement initiatives which include gifts of giant crowd-surfer flag to group of people at Ha'way the flags which will be used for cheering purposes during matches. In connection with the flag design, AFC already conducted an online poll to ask both first-team players and fans wherein they will follow the one that received that most number of votes.
In an interview with Gary Hutchinson Sunderland AFC Commercial Director, he states that Dafabet have a great understanding of football especially that they used to work in this industry for years and considering the last season, the club has seen the real potential of taking the exposure into a global level. "There is a real synergy between the club's aims and objectives and what Dafabet want to achieve" he added.
On the other hand, John Cruces Head of Sports Marketing and Sponsorship expresses his joy with the sponsorship continuity. "We are very happy to extend of partnership somewhat early with Sunderland. The deal was actually agreed in principle some time back such is the level we value the partnership" he said. John also states that they have the mindset as Sunderland AFC, that best relationships are formed especially with individuals who build in work on achieving common goals.
"We have had a busy summer in that we have announced a number of new deals across football and sport in general, extending our relationship with Sunderland was important to us for the brand presence the club has already helped us achieve, and will no doubt continue to do so." He added.
Add your comment. Tell us what you think
comments